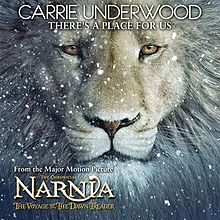 For the lyrics, see lyrics
For the music video, see video
"There's A Place For Us" is a track from The Chronicles of Narnia: The Voyage of the Dawn Treader soundtrack.

Carrie wrote the song with David Hodges and Hillary Lindsey, and the three of them recieved a nomination for Best Original Song at the 2011 Golden Globe Awards.
The song was released as an exclusive single in November 2010, only available on iTunes. It has so far sold 77,000 copies.
"There's A Place For Us" appears during the end credits of the movie.
Carrie Says
About the song, Carrie said, "I'm a big fan of the Narnia books and films, so I was really excited about seeing this new movie and writing and performing a song for it. I was blown away by the film, and I think people are going to be really excited when they see it. It's the perfect holiday film. The Voyage of the Dawn Treader presents an imaginative world that's also relatable because it's easy to connect the characters and themes to our own lives. The land of Narnia represents a place where the young heroes truly belong. That inspired me to get together with David and Hillary and write 'There's a Place for Us,' which says that for everybody, there's a place where you're powerful and where you belong. The movie and song are about finding that place where you fit in."