Carrie starred as Maria Von Trapp in the NBC live television event "The Sound of Music" on December 5, 2013.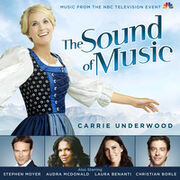 Maria is a young nun who lands a job as nanny for seven young children and ends up falling in love with their father. The TV special borrowed more from the broadway musical version rather than the film adaptation, which starred Julie Andrews. The show featured classic songs like "My Favorite Things" and "Do Re Mi". In addition to performing live,
The Sound of Music soundtrack
was released on December 3, 2013.