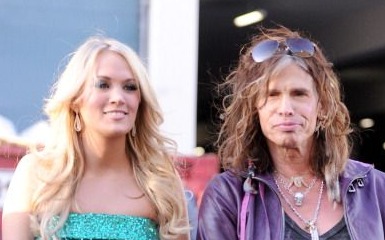 Steven Tyler
is a singer-songwriter and musician, best known as frontman for famous rock band Aerosmith.

Steven has remained a household name since the 1960s as a rock icon, and in 2001 was inducted into the Rock and Roll Hall of Fame.
In 2011, he made his debut as a judge on American Idol. After two season with the show, he announced his departure, saying that he wanted to re-focus on his music career.
Steven first appeared alongside Carrie at the 2011 Academy of Country Music Awards, where he sang "Undo It" with her, followed by a performance of his hit "Walk This Way".
Steven once again paired with Carrie for her very first CMT Crossroads special in February 2012. The two performed a medley of their respective hits.
Carrie recorded a duet with Steven called "Can't Stop Loving You ", which was featured on the Aerosmith album released in November 2012, Music From Another Dimension.