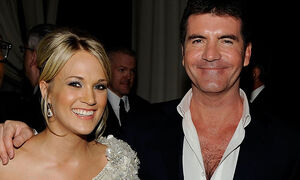 Simon Cowell
has served a multitude of roles, including American Idol judge, television producer, entrepreneur, and TV personality.

Known for his brutal honesty, Simon served as the primary judge for American Idol from 2002 to 2010. Following his exit from the show, Simon produced The X Factor, which was hugely successful. The show underwent its eighth season in 2011.
During season 4 of American Idol in 2005, Simon had quite a bit to say about Carrie's performances. Although sometimes harsh towards a few of her performances, Simon was mostly positive when speaking about her.
He rightly predicted that Carrie would be one of the favorites to win the competition, and also said that she would outsell all previous Idol winners.