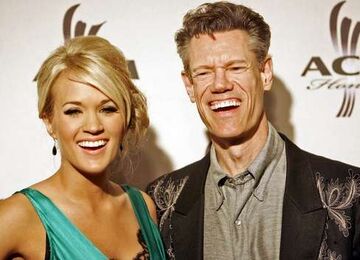 Randy Travis
is a singer-songwriter and musician who has made his mark in country music history.

With more than 50 songs on the country charts, and 22 #1 hits, Randy was one of the leading men in the new traditional country movement. He has sold 25 million albums, with 6 of them going multi-platinum.
He is a 6-time Grammy winner, and has 6 awards from the Country Music Association, as well as 10 American Music Awards and 9 Academy of Country Music awards. He has also left a mark in gospel music, winning 7 Dove awards. In addition, Randy has his own star on the Hollywood Walk of Fame.
He has worked with Carrie several times. In 2008, he invited her to become the newest member of the Grand Ole Opry after she performed "I Told You So", which she released as a single from her 2007 album, Carnival Ride.
When the single was released in 2009, the two of them recorded a duet version of the song, which did quite well on the charts.
Carrie also recorded the duet "Is It Still Over?"  with Randy for his 2011 Anniversary Celebration album.