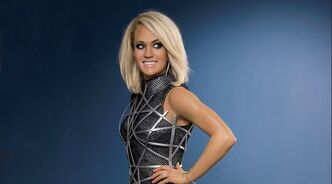 Madame Tussauds has created a new Carrie Underwood wax figure for their Nashville exhibit, which opened in April 2017.
This updated version of Carrie wears the edgy outfit she donned for her 2016 performance of "Church Bells" at the Academy of Country Music Awards. Featuring short blonde hair and gladiator-style boots, the life-size depiction of Carrie captures her in all of her superstar glory.
Fans can go check out the figure at Madame Tussauds in Nashville, TN.
Ad blocker interference detected!
Wikia is a free-to-use site that makes money from advertising. We have a modified experience for viewers using ad blockers

Wikia is not accessible if you've made further modifications. Remove the custom ad blocker rule(s) and the page will load as expected.