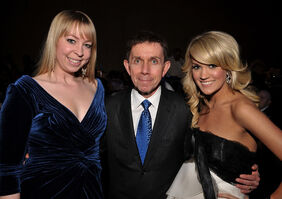 Joe Galante
was the chairman of Sony Music Nashville before announcing his departure from the company. He is largely responsible for starting up Carrie's career, and in addition, he's worked with artists like Martina McBride, Brooks & Dunn, Kenny Chesney, Miranda Lambert, Brad Paisley, Sara Evans, Montgomery Gentry, and The Judds.

On his leave, Joe said, "I have been inspired by so many exceptional artists and songwriters and feel privileged to be a part of their careers. I've worked with unique managers and executives who helped me learn more about this business and how to better my craft. My RCA, BMG and Sony family's support and passion for our artists' music helped us build the label group of the year for seven of the last eight years ... This is solely my decision and I'm excited to begin my journey down another road."
Ad blocker interference detected!
Wikia is a free-to-use site that makes money from advertising. We have a modified experience for viewers using ad blockers

Wikia is not accessible if you've made further modifications. Remove the custom ad blocker rule(s) and the page will load as expected.