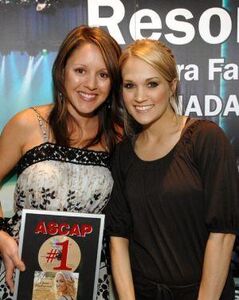 Hillary Lindsey
has served a double role as singer and songwriter. She's famous for the many number one hits she's written in country music. She had a hand in writing Carrie's big hits, such as "Jesus, Take the Wheel", "Just A Dream", "So Small", "Last Name", "Wasted", and many more.

In addition, Hillary has recorded several demos of Carrie's songs, and provided background vocals.
Ad blocker interference detected!
Wikia is a free-to-use site that makes money from advertising. We have a modified experience for viewers using ad blockers

Wikia is not accessible if you've made further modifications. Remove the custom ad blocker rule(s) and the page will load as expected.