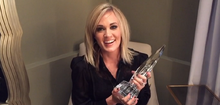 (January 18) - Winners for the 2017 People's Choice Awards were announced live January 18th, honoring A-list stars in film, music and television.

Carrie Underwood picked up another win as Favorite Female - Country Artist, marking her third year in a row to win the award. It also marks her 9th overall win. Fellow country star Blake Shelton won Favorite Male Country Artist.

Although Carrie wasn't able to attend the show, she did show up for a live interview with the TODAY show on Wednesday morning. There, Underwood discussed her recent tour in Australia with Keith Urban, as well as her clothing line called Calia.

Thank you fans for voting!
Ad blocker interference detected!
Wikia is a free-to-use site that makes money from advertising. We have a modified experience for viewers using ad blockers

Wikia is not accessible if you've made further modifications. Remove the custom ad blocker rule(s) and the page will load as expected.