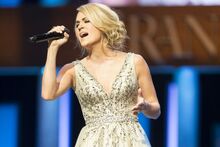 Carrie Underwood will be returning to the Grand Ole Opry stage in Nashville on March 24th and 25th.
The country music superstar doesn't have much planned for 2017, but fans will be able to catch her when she plays a few live shows for the Opry on those dates. Underwood will be celebrating her birthday on March 10.
Underwood's appearances at the Opry have been quite regular since she had the honor of being inducted as a member by Garth Brooks in May 2008. Since then, Underwood has been delivering her biggest hits on country music's most famous stage in Nashville.
Fans can expect to hear a range of her songs that might include "Church Bells", "Dirty Laundry", "Heartbeat", "Good Girl", "Little Toy Guns", or "Something in the Water."
Tickets start at $43 and can be found on the Grand Ole Opry's website.
Ad blocker interference detected!
Wikia is a free-to-use site that makes money from advertising. We have a modified experience for viewers using ad blockers

Wikia is not accessible if you've made further modifications. Remove the custom ad blocker rule(s) and the page will load as expected.