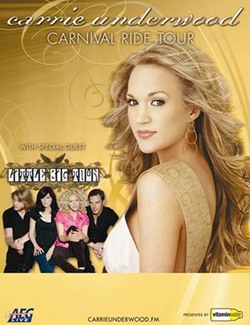 The Carnival Ride Tour
was Carrie Underwood's first headlining tour and her third overall tour to participate in. It was in support of her second album,
Carnival Ride.
The tour consisted of two legs in the United States and Canada. Opening acts included Josh Turner, Little Big Town, and Jason Michael Carroll.
She briefly participated in a joint tour with Keith Urban for the Love, Pain, and the Whole Crazy Carnival Ride tour as well.
Date
City
Country
Venue
North America
February 13, 2008
New York City
United States
Madison Square Garden
February 18, 2008
Wilkes Barre
Wachovia Arena
February 19, 2008
Albany
Times Union Center
February 20, 2008
Amherst
Mullins Center
February 22, 2008
Pittsburgh
Peterson Events Center
February 24, 2008
Providence
Dunkin Donuts Center
February 25, 2008
Bridgeport
Arena at Harbor Yard
March 18, 2008
Bethlehem
Stabler Arena
March 19, 2008
Manchester
Verizon Wireless Arena
March 21, 2008
Ottawa
Canada
Scotiabank Place
March 22, 2008
Hamilton
Copps Coliseum
March 25, 2008
Ft. Wayne
United States
Allen County War Memorial Coliseum
March 26, 2008
Evansville
Roberts Stadium
March 27, 2008
Dayton
Nutter Center
March 30, 2008
Saginaw
Dow Event Center
March 31, 2008
Grand Rapids
Van Andel Arena
April 1, 2008
Green Bay
Resch Center
April 3, 2008
Lansing
Breslin Student Events Center
April 4, 2008
Columbus
Schottenstein Center
April 21, 2008
Dekalb
NIU Convocation Center
April 29, 2008
Wichita Falls
Kay Yeager Coliseum
April 30, 2008
Amarillo
Civic Center
May 2, 2008
Tucson
TCC Arena
May 6, 2008
El Paso
Don Haskins Center
May 7, 2008
Lubbock
United Spirit Arena
May 11, 2008
Little Rock
Verizon Arena
May 13, 2008
Colorado Springs
World Arena
May 14, 2008
Casper
Casper Events Center
May 15, 2008
Bozeman
Brick Breeden Fieldhouse
May 19, 2008
Reno
Reno Events Center
May 23, 2008
Yakima
Yakima SunDome
May 24, 2008
Spokane
Spokane Arena
May 25, 2008
Nampa
Idaho Center
May 28, 2008
Fresno
SaveMart Center
June 8, 2008
Cape Girardeau
Show Me Center
June 10, 2008
Toledo
SeaGate Convention Centre
June 11, 2008
Youngstown
Covelli Centre
June 12, 2008
Reading
Sovereign Center
June 14, 2008
Huntington
Big Sandy Superstore Arena
June 15, 2008
Greenville
BI-LO Center
June 17, 2008
Birmingham
BJCC Arena
June 18, 2008
Lafayette
Cajundome
June 20, 2008
Mobile
Mobile Civic Center
June 21, 2008
Beaumont
Ford Park Events Center
June 22, 2008
Corpus Christi
American Bank Center
June 24, 2008
New Orleans
Lakefront Arena
August 1, 2008
Mashantucket







Date
City
Country
Venue
North America
September 23, 2008
Cleveland
United States
Wolstein Center
September 24, 2008
Highland Heights
Bank of Kentucky Center
September 25, 2008
Milwaukee
Bradley Center
September 27, 2008
Grand Forks
Ralph Engelstad Arena
September 28, 2008
Sioux City
Tyson Events Center
September 30, 2008
Topeka
Landon Arena
October 2, 2008
Champaign
Assembly Hall at University of Illinois
October 3, 2008
Hoffman Estates
Sears Centre
October 4, 2008
Detroit
Joe Louis Arena
October 6, 2008
London
Canada
John Labatt Centre
October 7, 2008
Toronto
Air Canada Centre
October 10, 2008
St. John
Harbour Station
October 11, 2008
Moncton
Moncton Coliseum
October 12, 2008
Halifax
Halifax Metro Centre
October 14, 2008
Portland
United States
Cumberland County Civic Center
October 15, 2008
Boston
Agganis Arena
October 16, 2008
Kingston
Ryan Center
October 18, 2008
Syracuse
War Memorial at Oncenter
October 19, 2008
Philadelphia
Liacouras Center
October 21, 2008
Binghamton
Broome County Veterans Memorial Arena
October 23, 2008
Hampton
Hampton Coliseum
October 24, 2008
Winston-Salem
LJVM Coliseum
October 26, 2008
Southaven
DeSoto Civic Center
October 27, 2008
Jonesboro
ASU Convocation Center
October 29, 2008
Tulsa
BOK Center
October 30, 2008
Grand Prairie
Nokia Theatre
October 31, 2008
Austin
Frank Erwin Center
November 1, 2008
Houston
Reliant Arena
November 3, 2008
Las Cruces
Pan American Center
November 5, 2008
Los Angeles
Nokia Theatre
November 7, 2008
Glendale
jobing.com Arena
November 8, 2008
San Diego
San Diego Sports Arena
November 9, 2008
Ontario
Citizens Business Bank Arena
November 14, 2008
Bakersfield
Rabobank Arena
November 15, 2008
Oakland
Oracle Arena
November 17, 2008
Portland
Rose Garden
November 19, 2008
Salt Lake City
E Center
November 21, 2008
Missoula
Adams Center
November 22, 2008
Billings
Rimrock Auto Arena at MetraPark
November 24, 2008
Lethbridge
Canada
Enmax Centre
November 25, 2008
Edmonton
Rexall Place
December 1, 2008
Regina
Brandt Centre
December 2, 2008
Winnipeg
MTS Centre
December 4, 2008
Madison
United States
Alliant Energy Center
December 5, 2008
St. Louis
Chaifetz Arena
December 7, 2008
Nashville
Bridgestone Arena
December 8, 2008
Chattanooga
UTC McKenzie Arena
December 9, 2008
Tupelo
BancorpSouth Arena
December 12, 2008
Tampa
St. Pete Times Forum
December 13, 2008
Orlando
UCF Arena
December 14, 2008
Gainesville
Stephen C. O'Connell Center