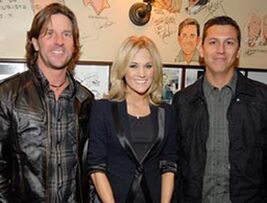 Brett James
is a singer-songwriter and producer. After releasing a string of singles and his own debut album, Brett began a primary career of songwriting. He's worked with artists like Carrie, Tim McGraw, Kenny Chesney, Martina McBride, Rascal Flatts, Taylor Swift, Sara Evans, Gary Allan, Jason Aldean, Kelly Clarkson, and Rodney Atkins.

His credits with Carrie include "Jesus, Take the Wheel", "Cowboy Casanova", and "Twisted".
Ad blocker interference detected!
Wikia is a free-to-use site that makes money from advertising. We have a modified experience for viewers using ad blockers

Wikia is not accessible if you've made further modifications. Remove the custom ad blocker rule(s) and the page will load as expected.