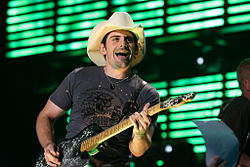 For his gallery, see gallery
Brad Douglas Paisley (born October 28, 1972) is an American singer-songwriter and musician. He is one of Carrie's best friends in the business, and the two have worked together many times.
They have co-hosted the annual CMA Awards together every year since 2008, and have also recorded a few duets. On his album 5th Gear, Carrie recorded a duet with him called "Oh Love".
Brad Paisley

Born:

October 28, 1972

Occupation:

Singer-songwriter

Spouse:

Kimberly Williams Paisley

Associated acts:

Carrie Underwood

Years active:

1997-present

Website:

www.bradpaisley.com
In 2011, the pair took the Billboard country chart by storm with their hit, "Remind Me", which eventually landed at #1. In addition, they won the 2012 Collaborative Video of the Year award at the CMT Music Awards.
In their latest project together, Brad provided guitar instrumentation on Carrie's album "Blown Away", in the song "Cupid's Got A Shotgun".
Ad blocker interference detected!
Wikia is a free-to-use site that makes money from advertising. We have a modified experience for viewers using ad blockers

Wikia is not accessible if you've made further modifications. Remove the custom ad blocker rule(s) and the page will load as expected.