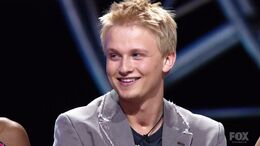 Anthony Federov
was born in the Ukraine, but moved to the United States in 1994. It was a miracle he could sing at all; due to a birth defect in his windpipe, he underwent a tracheotomy at an early age.

Anthony placed fourth in Carrie's season, and became a good friend to her along the way. He was best known for singing ballads, until being eliminated during country week.
Ad blocker interference detected!
Wikia is a free-to-use site that makes money from advertising. We have a modified experience for viewers using ad blockers

Wikia is not accessible if you've made further modifications. Remove the custom ad blocker rule(s) and the page will load as expected.